Artist's Statement
I have been drawing for as long as I can remember; progressing from crayons to pencil drawings to charcoal and pen and ink. However, it wasn't until 2001 when I started painting, that I really began to focus on creating art.  After a few years as a watercolour artist, my desire to create paintings on a larger scale led me to painting with oils.  Oil painting provides me with great freedom of expression, so now I work almost exclusively in this medium.
My subject matter has also gradually evolved over time, into three areas.  I have always had a great love of animals, so I naturally started out painting them.  I have maintained this connection through commissioned pet portraits, in which each animal's unique personality shines through.  In another series of paintings, my goal is to share the essence of this place and the people who live here –  images reflecting the spirit of the beautiful west coast of BC, where I am fortunate enough to live.  I also love vintage things, and my other paintings focus on capturing a mid-century vibe.
My art celebrates life.  I derive my inspiration in painting from what I value in life; not only in the subject matter itself, but also in the qualities portrayed and the emotions evoked.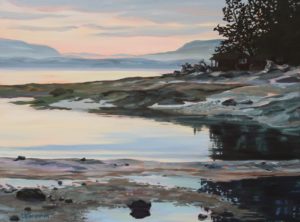 Yellowpoint I -oil on canvas